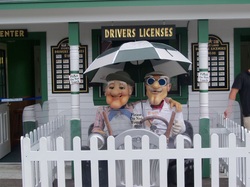 FEES (subject to change)
For your convience the following Fees can be paid with a payment plan of $ 50. installments
Classroom : $ 150.00
(additional $50.00 if rd lessons are done elsewhere)
Road Lesson: $ 45.00
Parent Class: $ 10.00
Driver Ed. Certificate: $ 17.00 (includes $2 processing fee)
Road Test: $80.00
Certificate & Road Test Info
Once all Driver Ed Requirements have been met, and all fees are paid in full. The Driving School will send out the student's paperwork to Boston RMV.
The RMV will process the paperwork and enter it into to their computer system.At that point the student is eligible to go for their License Exam.
If the student wishes to have the Driving School take them for their Road Test, the fee is $80
The student must also pay a $70 fee to the RMV.
D & B Driving School will:

Book the Exam Date
Provide the car
Provide the Sponsor
Give a Brush up lesson

If the student decides to go on their own for the Road Test, they will be responsible for all of the above.
In order to be eligible for Road Test Mass. Law requires students to hold
learner permit for 6 months and have a clean driving record.

Frequently Asked Questions Q- How old do you need to be to begin Driver Ed Classes?
A- The applicant must be at least 15 yrs and 9 months old.

Q- Do I need a Learners Permit to begin Classroom ?
A- No, you do not need a Permit to begin Classroom, but do Need a Permit to begin the Road Lessons.

Q- How much does Drivers Ed cost ?
A- All Fees related to Drivers Ed. Can be found on the Fees page.

Q- When am I eligible to get my License?
A- Mass. Law says Students must have Learners permit for 6 months before they can get a License
complete Drivers Ed and be at least 16 1/2 years old.

Q- Does the Driving School pick up at Home for Road Lessons ?
A- Yes we will provide Door to Door pick up and drop off for Road Lessons Except for some rare Students who live too far out, in those cases we will make arrangements for a more central pick up location.

Q- How do I sign up for Classroom or Road Lessons ?
A- You can sign up on line via the registration form, or call us at 508-822-6175 or email us DBDrivingschool@aol.com

Q- How do I sign up for the classes at my High School?
A- High School Programs do sign ups at HS main office.

Q- Can I take the Road Test in the Driving School car ?
A- Yes , we do provide a Car, Sponsor and Brush-up lesson the day of your License Test, The fee for this service is an additional $80.00

Q- What is this new Parent Class I have been hearing about ?
A- The Parent Class is a new RMV requirement of a 2 hour class that must be completed prior to the Student receiving a Driver Ed. Certificate. More info can be found on the Parent Class page.

Q- what is a Driver Ed Certificate ?
A- The Driver Ed Certificate is issued by the RMV on completion of all Driver Ed requirements. This Driver Ed. Certificate will allow you to go for your License and will also give you substantial savings on your Car Insurance.

Q- How do I get a Certf
A- The Driving School takes care of this for you, once you have completed all requirements.

Q- Where is D&B main office ?
A- We are located at 10 Oak St. in Taunton ,this is also the Bloom/Gatra Bus Terminal Building, located close to the center of Taunton and the Taunton RMV.